Tasty
Tailgating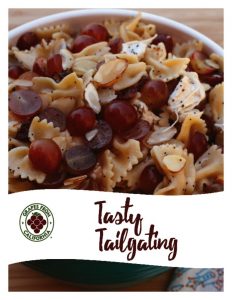 Stock up the cooler and go with California grapes to the game! Endlessly versatile and full of healthy goodness, grapes are the top pick for better-for-you game-day snacking. With their fresh burst of flavor, heart-healthy grapes are great on their own or as the star ingredient in these championship recipes.
Whether a salad, skewer, sandwich, or salsa, Tasty Tailgating has a California grape recipe that is perfect for every hungry fan.  These recipes will have everyone cheering, "Go… Grapes!"
Go with grapes every day for a whole bunch of healthy!