All About
Grapes

For nearly
two centuries,


Californians have been cultivating grapes
Grapes have been around a long, long time – in fact, the first grape varieties date as far back as 6000 B.C.
In California, the fresh grape boom hit in 1839 when a former trapper from Kentucky, William Wolfskill, planted the state's first table grape vineyard in the Mexican colonial pueblo now known as Los Angeles. An agricultural entrepreneur, Wolfskill was the first farmer to ship fresh grapes to Northern California. R.B. Blowers expanded the idea and sent the first 22-pound box of California grapes to Chicago via the new transcontinental railroad in 1869.
Grapes Today
The gold rush may have ended, but the grape rush continues. Today, over 99 percent of grapes commercially grown in the United States come from California. With 90 varieties grown, California grapes come in three colors – green, red, and black – and are available May through January. At a crop value of $2.13 billion in 2022, California table grape growers harvested more than 95 million boxes of grapes, sending them to shoppers worldwide.
Committed to quality
California's table grape growers are committed to giving you the best tasting, highest quality grapes in the world, so the highest standards of production are applied to every vine grown. Grapes from California are cultivated, picked, packed, and transported with the greatest care to ensure the berries you enjoy arrive in just-picked condition: plump, juicy, and perfect.
HOW TO
select

and

enjoy

With these simple tips, you'll be guaranteed a great grape experience: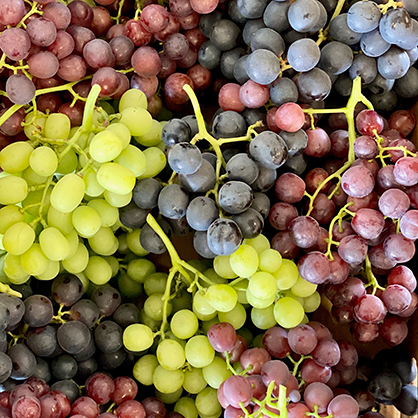 Selecting Grapes
Look for grape bunches with green, pliable stems and plump berries. Do you see a waxy, whitish covering on grape berries, giving a frosted appearance to dark-colored varieties? That's bloom and it's good! Bloom is a naturally occurring substance that protects grapes from moisture loss and decay. To prolong shelf life, store table grapes unwashed in the refrigerator and rinse them with cold water prior to eating. Green, red, or black…which color should you choose? Try them all to experience different flavors and textures.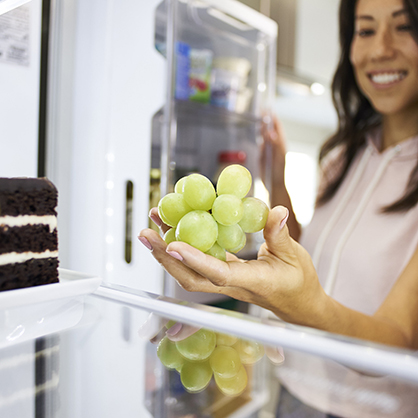 Storing Grapes
Grapes can keep for up to two weeks when following a few simple steps:
Always refrigerate for maximum shelf life
Store unwashed and dry; rinse before serving
Avoid storing compressed or squeezed
To avoid odor absorption, do not store grapes next to onions or leeks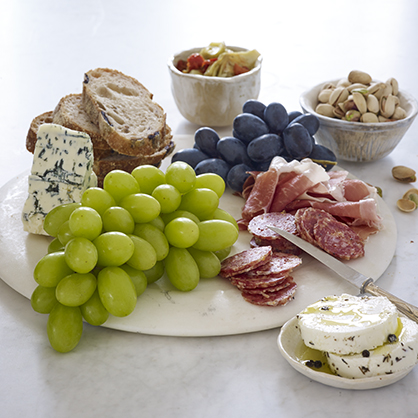 Enjoying Grapes
Grapes can be eaten fresh or frozen and are a wonderful addition of flavor and texture to anything from salads to sides, drinks to desserts. Whether sautéed, roasted, grilled, or even pickled, grapes make it easy for anyone to take their snacks and meals to the next level.
Find hundreds of recipe ideas here
garnish & decorate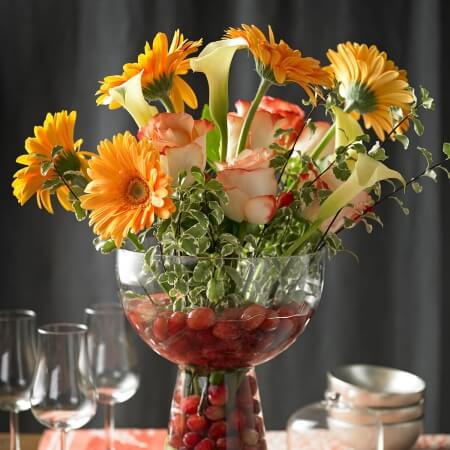 Vase Filler
Use Grapes from California instead of glass gems or foam to hold flowers in place in a vase.  Grapes keep a floral arrangement completely natural and extends color throughout the entire vase.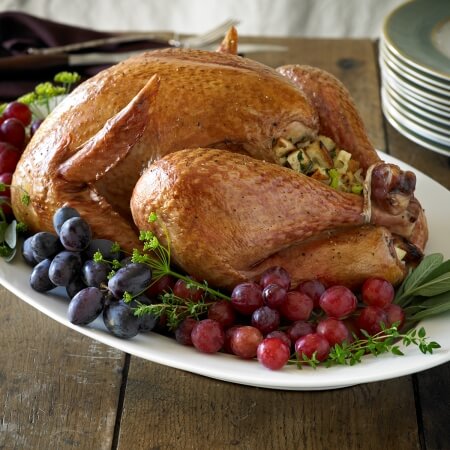 Trim the Turkey
Accent a turkey with beautiful grapes for friends and family to admire… before it's all gobbled up!  After placing the cooked turkey on a large platter, decorate with a variety of fresh herbs and small bunches of grapes from California.  The décor will be a delicious sweet treat once served. Click
here
 for turkey stuffing and side dishes.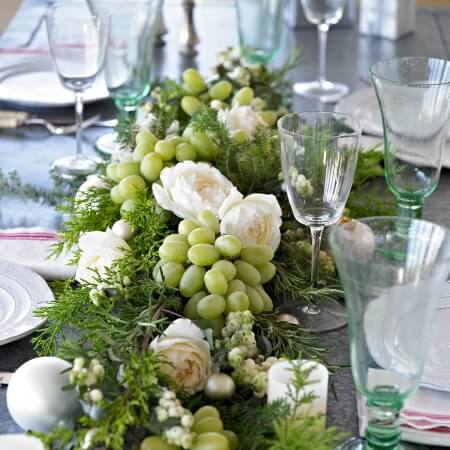 Set the Table
California grapes add color, texture, and flavor to dining tables and work well with a wide variety of themes and color palettes.  From elegant weddings to festive dinner parties, grapes will be an unexpected and appreciated surprise for guests to nibble while they mingle.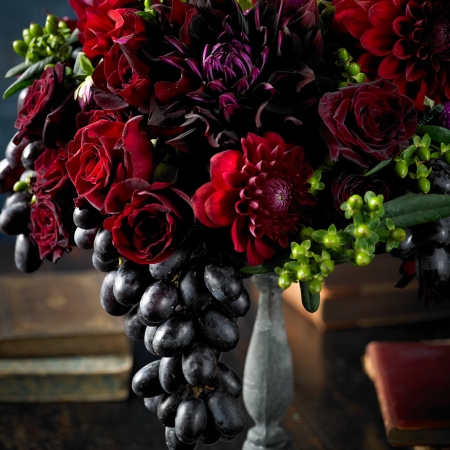 Roses are Red… Grapes are Too
No matter the color, California grapes are an excellent addition to floral arrangements, adding color, texture and depth.  Red, green and black grapes pair perfectly with a wide variety of flowers and greenery.  A floral arrangement with grapes is something beautiful to see and delicious to eat!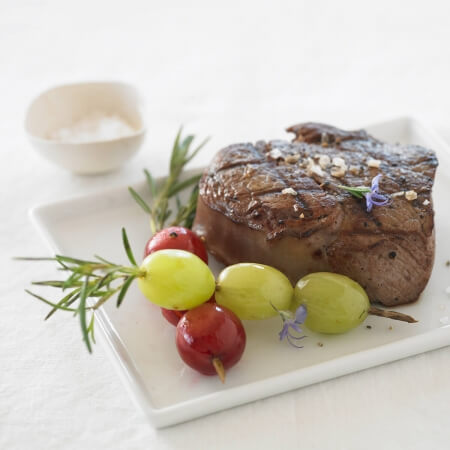 Rosemary Skewers
Add color and fragrance to a perfectly seared steak with rosemary grape skewers.  Snip long stems of rosemary leaves and remove all but the top leaves from the stem. Insert the stem into several Grapes from California and serve alongside the steak. Rosemary grape skewers are also a perfect complement to this
Grape Rosemary Martini
.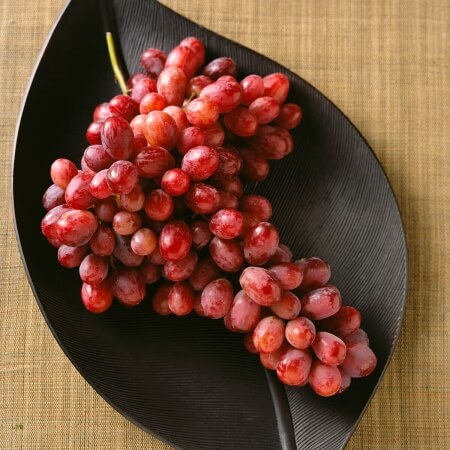 Just a Bunch
For those days when guests arrive unexpectedly, top a unique platter with just a single bunch of grapes from California for a simple, striking design element on a table that appears to have been completely planned.  Guests will not be able to resist the tempting burst of flavor.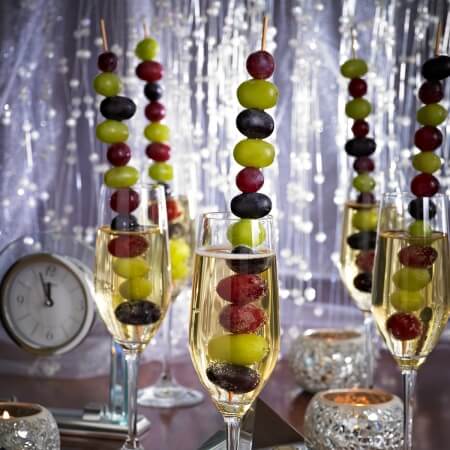 Twelve Grapes of Luck
A Spanish tradition called "las doce uvas de la suerte" dates back to 1895 and consists of eating a grape with each of the twelve bell strikes at midnight on New Year's Eve.  Many believe this leads to a year of prosperity. Green, black, and red grapes from California look festive on skewers served in champagne glasses or in punches, sangrias, fruit teas, and cocktails. Try
this 
fabulous champagne cocktail recipe.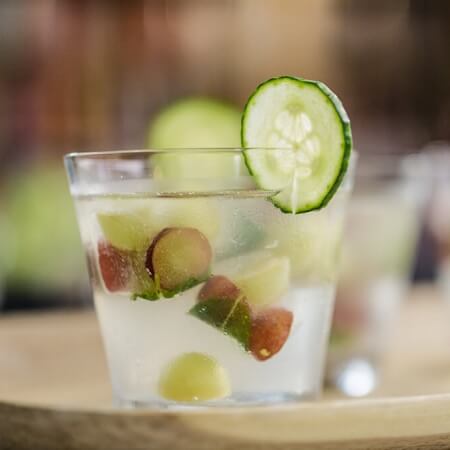 Grape & Mint Ice Cubes
Grapes freeze well and make a perfect replacement to plain ice cubes in cocktails – simply freeze sliced grapes from California and mint in ice cube trays with a bit of water, then add to a cocktail, like this
Gin, Grape and Cucumber Cocktail
.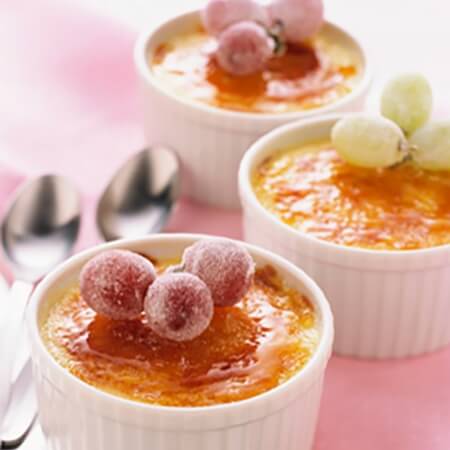 Frosted Grapes
Frosted grapes sparkle with sugar and add an extra-sweet touch to desserts like crème brûlée…or enjoy them as a dessert all on their own. It's easy to frost green, black, and red grapes from California with
this recipe
.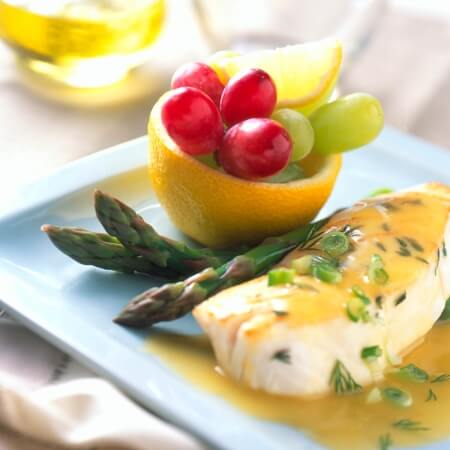 Citrus Cup
A hollowed piece of citrus makes the perfect cup for grapes while adding color and a fresh scent to the plate.  Fill an empty lemon cup with fresh grapes from California and serve alongside meals featuring ingredients like fish.

Chocolate-Dipped Grapes
Dipped in white, milk, or dark chocolate, grapes from California are the perfect match for dipping in chocolate!  Enjoy with dessert, like cheesecake, with tea, or even just on their own. Green, red, and black grapes from California are easy to dip in chocolate using
this recipe
.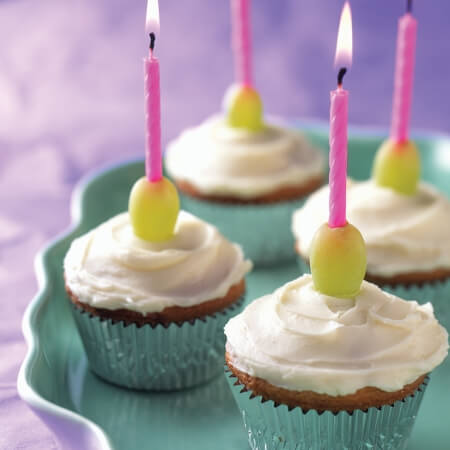 Candle Holder
Candles stand taller with extra height from grapes from California.  Secure grapes into fresh frosting and allow to set, then push candles into the top of the grape.  It's an extra special touch for a birthday celebration. Try this
Grape Spice Cupcake
recipe.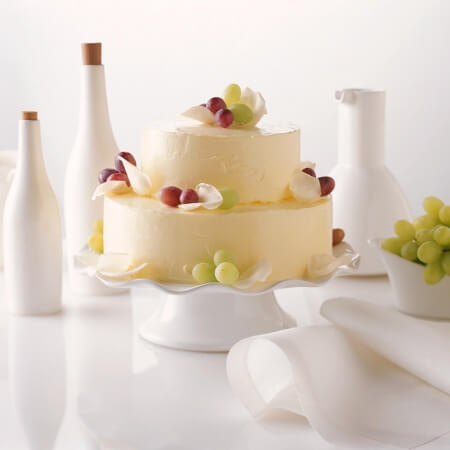 Cake Décor
Red, green, and black grapes from California are the perfect décor for a simply-frosted cake.  Grapes add color and elegance to each tier and are an edible decoration! Grapes are also the perfect candle holder on cupcakes, as seen 
here
.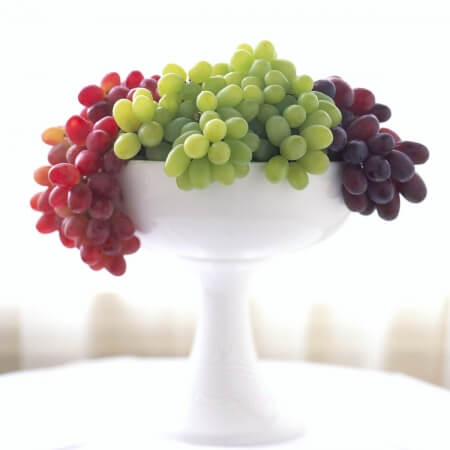 Beautiful Bunches
A pedestal of California grape bunches makes a simple, understated look of elegance on tables and counters.  Their stunning beauty is shown as they cascade from a tall stand.  And this décor couldn't be easier… with more than 90 varieties, just select preferred bunches and set on the pedestal!

DID YOU
KNOW...
At a crop value of $2.13 billion in 2022, California table grape growers harvested more that 95 million boxes of grapes, sending them to shoppers worldwide.
California grapes are your local grapes! 99% of the commercially grown table grapes in the United States are grown in California.
Grapes from California are available May through January.
Grapes are considered berries, with an average of 100 berries on a bunch.
If left alone, a grapevine will spread 50 feet or more.
One of the most popular Chinese tongue twisters (chi putao bu tu putao pi) means, "When you eat grapes, don't spit out the skin." Turns out that's a good piece of advice! Grapes are a source of beneficial phytonutrients, which are found in the skin as well as the flesh and seeds of the grape. One of the most widely known phytonutrients, resveratrol, is being studied around the world for a vast array of promising potential health benefits.
There are 200+ recipes on our website to help inspire your next meal, snack, or dessert.
A Spanish tradition called "the twelve grapes of luck" dates back to 1895 and consists of eating a grape with each bell strike at midnight on January 1. Many believe this leads to a year of prosperity.