Recipes
featured
videos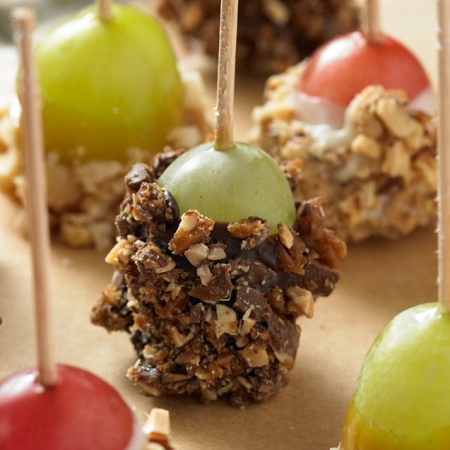 Grape Tuxedo Bites, 3 Ways
Have you ever dipped grapes in chocolate or caramel? Once you do, they may just become your favorite holiday sweet! Always the right size for a graceful, single sweet bite, Grapes from California deliver a juicy burst of flavor to accompany creamy chocolate and caramel and balance the subtle crunch from the crushed nuts or toffee. And an added bonus…they're a no-bake dessert that's so easy to make!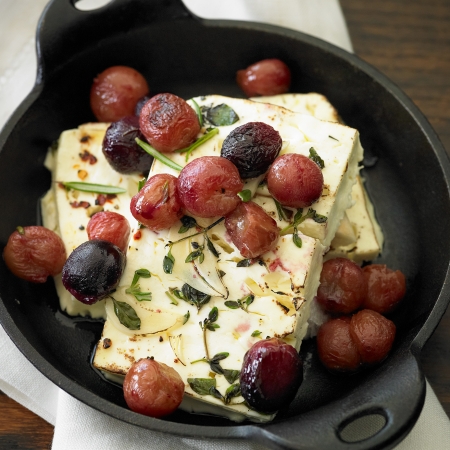 Baked Feta Cheese with Roasted Grapes
In this Mediterranean-inspired recipe, roasted Grapes from California offer lovely color, delicate sweetness, and warm, juicy texture to complement salty, creamy feta. Savory with a hint of sweet, this amazing California grape appetizer is perfect for parties.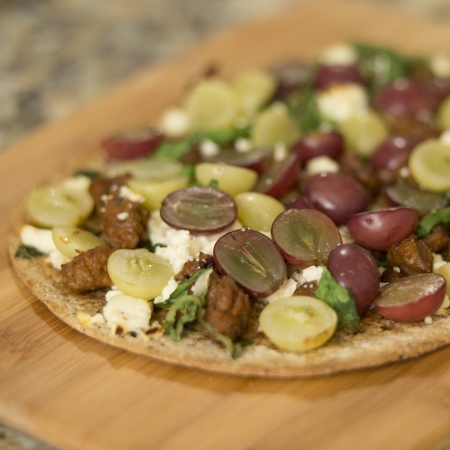 Italian Sausage Flatbread with California Grapes
For a simple and delicious, yet nutritious pizza night during the busy holiday season, try this Italian Sausage Flatbread with California Grapes! In this recipe the sweetness of the grapes is a perfect balance to the heat of the spicy sausage. This recipe is perfect for a healthy and quick weeknight dinner or a holiday party appetizer!
MEET
the Social Bunch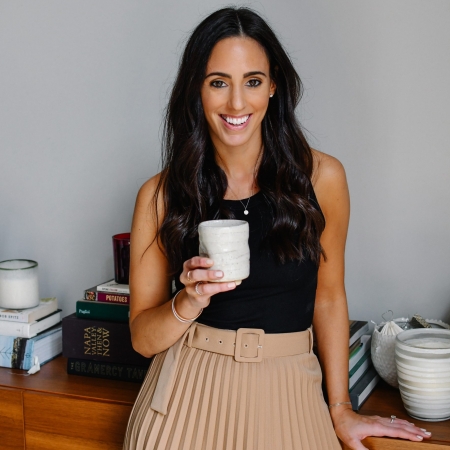 Sammi Haber Brondo, MS, RD, of VeggiesandChocolate
Sammi Haber Brondo, MS, RD is a Registered Dietitian Nutritionist based in New York City with a private practice, Sammi Brondo Nutrition. Sammi received her undergraduate degree from the University of Michigan and received her master's in clinical nutrition from New York University. She is the author of The Essential Vegetable Cookbook, a cookbook with 130 simple vegetable-focused recipes. Sammi believes that the key to a healthy diet is that it is realistic and enjoyable, and truly believes that all foods can fit. She teaches more about this philosophy on her social media accounts, @veggiesandchocolate.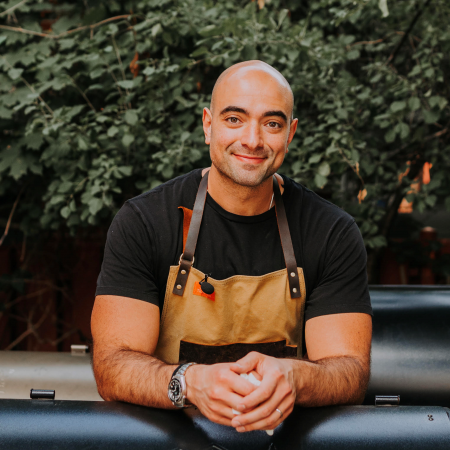 Ronny Lvovski of Primal Gourmet
Ronny Lvovski is a cookbook author and creator of the popular food blog, Primal Gourmet. He started blogging and sharing recipes in 2015 with a mission to help home cooks discover easy, delicious, and healthy meals that focus on whole food ingredients. Ronny can be found on social media @primal_gourmet.
Mary Ellen Phipps, MPH, RDN, LD, of Milk & Honey Nutrition
Mary Ellen Phipps, MPH, RDN, LD is the cookbook author and registered dietitian behind milkandhoneynutrition.com. As someone who's been living with type 1 diabetes since she was 5 years old, she strives to combine personal experience and professional expertise into relevant and relatable diabetes education. Mary Ellen received her bachelors of science in nutrition sciences from Baylor University and her masters of public health in epidemiology from the University of Texas School of Public Health, where she also completed her dietetic internship. You can find her on social media (@milknhoneynutrition on Instagram and @diabetesnutritionist on TikTok) and traditional media, helping bring joy back to life and the kitchen for people with diabetes. She is the author of The Easy Diabetes Cookbook (2021), and The Easy Diabetes Desserts Cookbook (2022), and a contributing writer, recipe developer, and content expert for WebMD, CNBC, and other leading health and wellness organizations.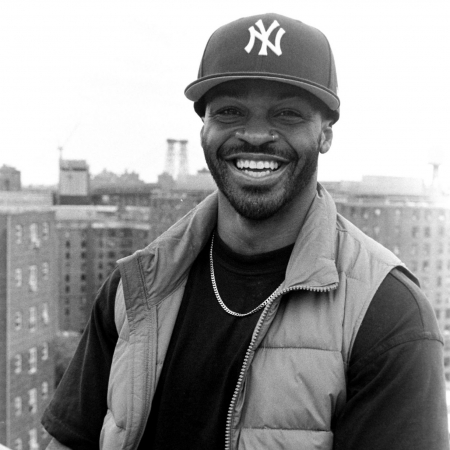 Berto Clemente of WhatsGoodBerto
Berto of @whatsgoodberto is a Brooklyn-based vegan food and wellness creator. Sharing his life observations with a dose of positivity and humor, he provides his followers with tasty vegan recipes, different ways to move their body, and thoughts on the ever-evolving world of health and higher living. As a former CPT, Fitness Nutrition Specialist, and ECornell Plant-Based Nutritionist, Berto is not only a source for easy and practical plant-based meals, but also someone his audience trusts when it comes to making balanced lifestyle decisions.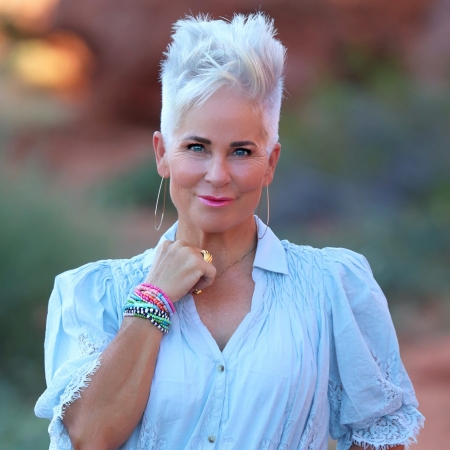 Shauna Grow of ChicOver50
Shauna Grow (@chicover50) started her journey of being an influencer eight years ago, just on a whim. She knew nothing about social media and had never worked outside her home. She began CHIC OVER 50 and learned very quickly how much need there is for women at midlife to be able to connect with other women their age. She has the privilege of talking to them all over the world about fashion, health, fitness, and all things in between. It has been the most rewarding path for Shauna, and has helped her more than she has ever helped anyone else. It gave her a way out of a troubled marriage and on to better things, and a safer and more stable life. Shauna loves that her job is a lot of creating, as she has always loved photography and journal keeping. This has turned out to be way more than Shauna had ever dreamed of having for herself. Truly midlife is just the beginning for her!!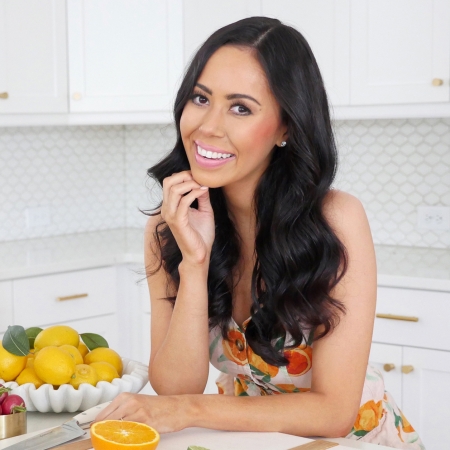 Mia Syn of NutritionbyMia
Mia Syn is a nationally recognized on-air nutrition expert and author of Mostly Plant-Based. She has been featured by dozens of major media outlets including Cosmopolitan and SHAPE, and was named one of the top registered dietitians to follow on Instagram by Women's Health Magazine. You can follow her @nutritionbymia for daily nutrition tips and easy healthy recipes.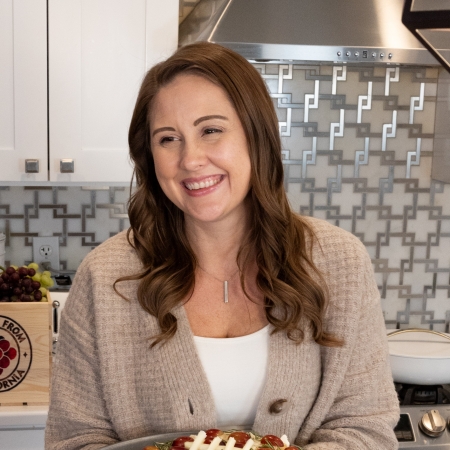 Jennifer Jones of YoungWildMeFamily
Jennifer Jones is a mother of four from the Chicagoland suburbs. Sharing fun recipes, DIY's, and easy ways to save time and money with others is something she really enjoys! Celebrating the little things in life is something she tries to do daily; she is always looking for ways to keep things fun for her family! You'll frequently find her coming up with any excuse to throw a party! Family travel is another thing she is very passionate about, and she loves sharing her and her family's favorite places! It can be intimidating to travel with the kids sometimes, but the experiences are always worth it.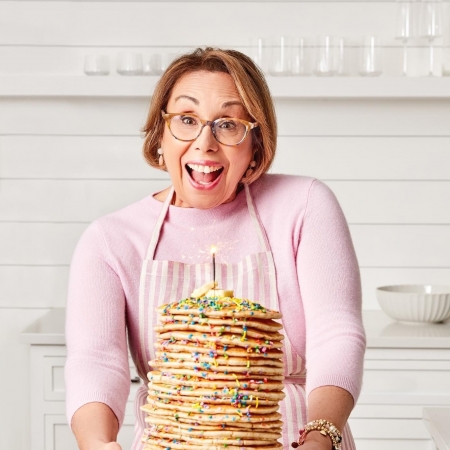 Barbara Costello of BrunchWithBabs
Introducing Brunch with Babs (brunchwithbabs), the internet's beloved grandmother and granfluencer who has taken the world by storm! With her infectious charm and culinary expertise, Babs has amassed a dedicated following of over six million viewers in just two years.
What sets Brunch with Babs apart is her unique ability to bring comfort, wisdom, and deliciousness to your screen. As a mother of four, grandmother of nine, and the adopted grandmother to millions, Babs offers much more than just mouthwatering recipes. She provides life hacks, words of wisdom, and a warm-hearted connection that resonates with viewers of all ages.
Whether you're seeking new recipes, life hacks, or simply a connection with an internet grandmother, Babs is here to nourish your body and soul, one short video at a time.
DOWNLOADABLE COOKBOOKS
Eating for Immune Health
ABOUT
California

TABLE GRAPES

Californians have been cultivating grapes for more than two centuries. Today, 99 percent of U.S. table grapes are produced in California's warm, dry climate that is ideal for grape growing. With 90 grape varieties grown, California grapes come in three colors—green, red, and black—and are in season from May through January.
Explore California