Grapes in
Foodservice

Grapes in
Foodservice
Grapes from California are an important staple in foodservice kitchens today. Why? Because fresh grapes are: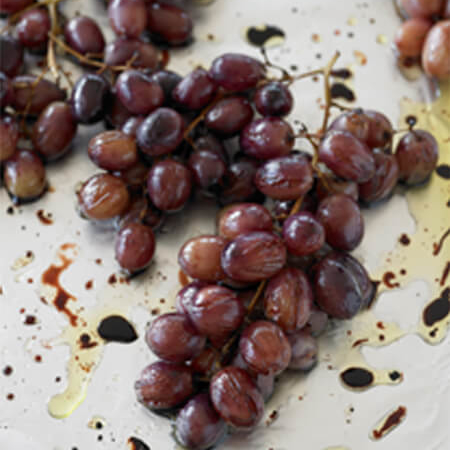 Versatile
fresh, roasted, grilled, sautéed and even pickled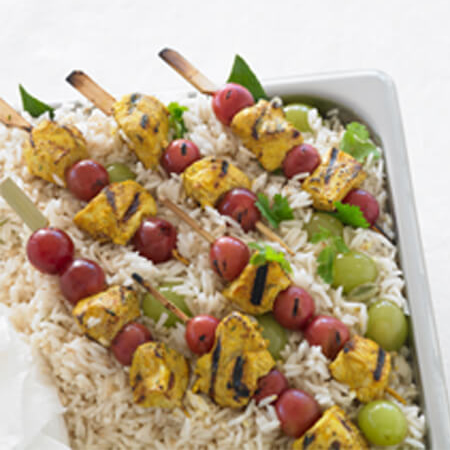 Compatible
with greens, grains, seafood, poultry and more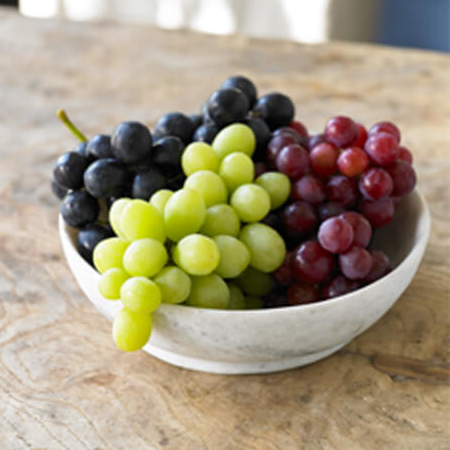 Beautiful
colorful green, red and black varieties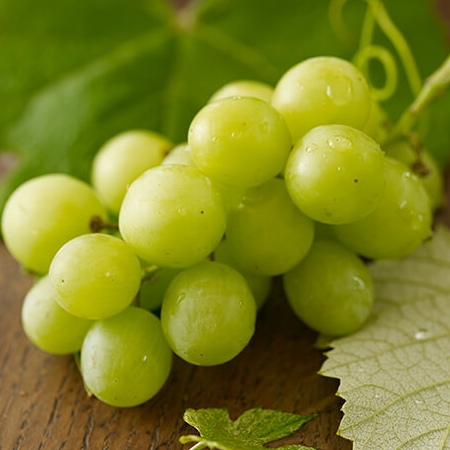 Healthy
a natural source of antioxidants and other polyphenols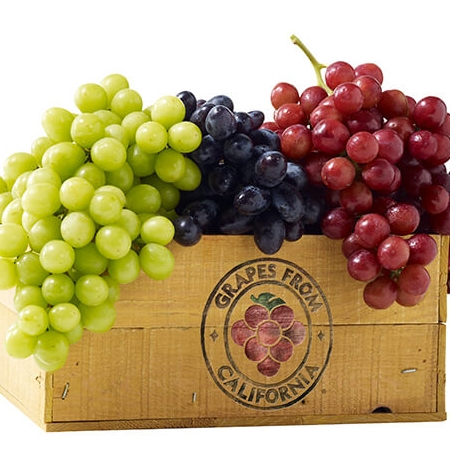 Readily available
May through January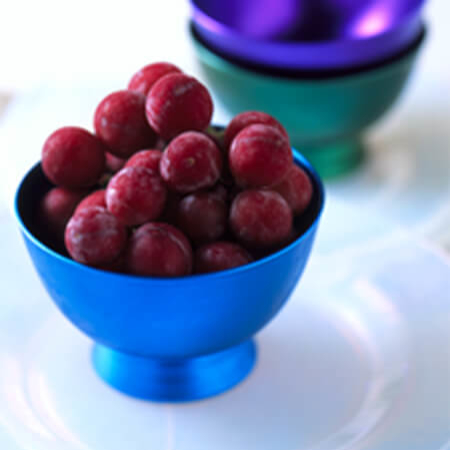 Balanced
sweetness plus acidity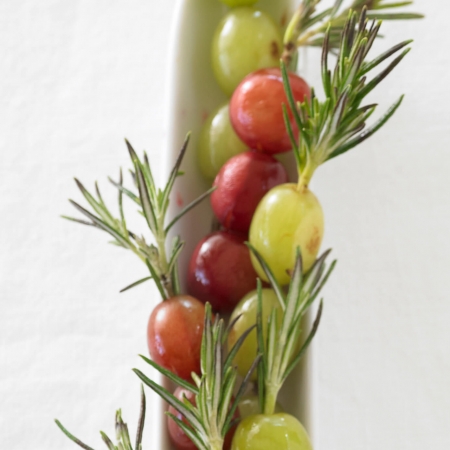 Delicious
bursting with juicy flavor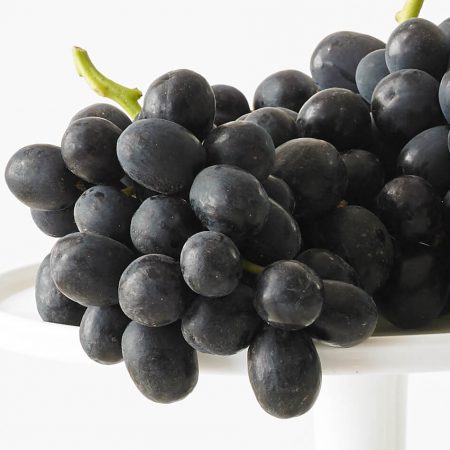 Convenient
always ripe and ready to use
Within this website are ideas and recipes courtesy of the California Table Grape Commission and fellow foodservice professionals.  Also included is information about grapes and health, downloadable brochures, recipe cards and more! 
garnish & decorate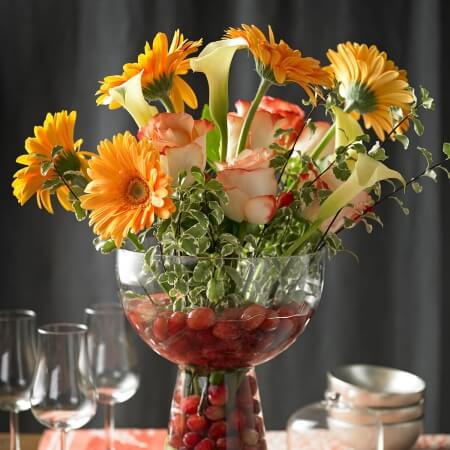 Vase Filler
Use Grapes from California instead of glass gems or foam to hold flowers in place in a vase.  Grapes keep a floral arrangement completely natural and extends color throughout the entire vase.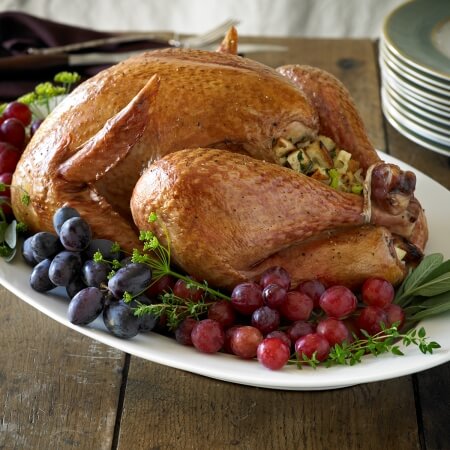 Trim the Turkey
Accent a turkey with beautiful grapes for friends and family to admire… before it's all gobbled up!  After placing the cooked turkey on a large platter, decorate with a variety of fresh herbs and small bunches of grapes from California.  The décor will be a delicious sweet treat once served. Click
here
 for turkey stuffing and side dishes.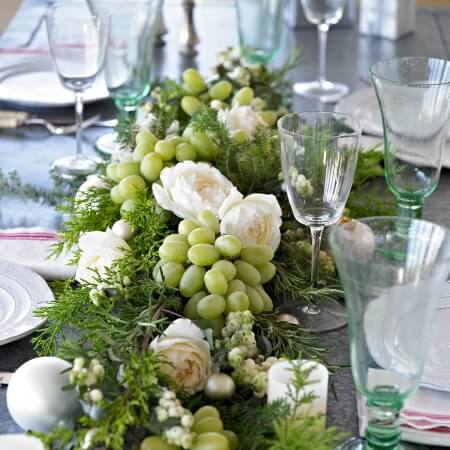 Set the Table
California grapes add color, texture, and flavor to dining tables and work well with a wide variety of themes and color palettes.  From elegant weddings to festive dinner parties, grapes will be an unexpected and appreciated surprise for guests to nibble while they mingle.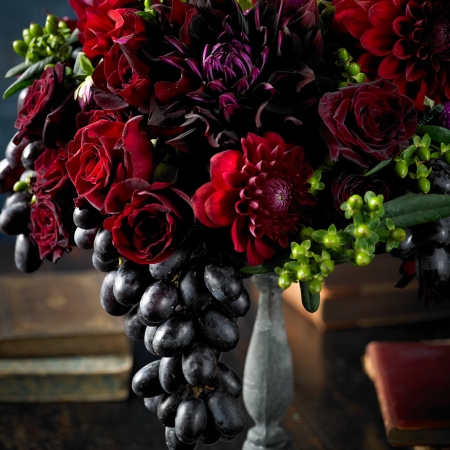 Roses are Red… Grapes are Too
No matter the color, California grapes are an excellent addition to floral arrangements, adding color, texture and depth.  Red, green and black grapes pair perfectly with a wide variety of flowers and greenery.  A floral arrangement with grapes is something beautiful to see and delicious to eat!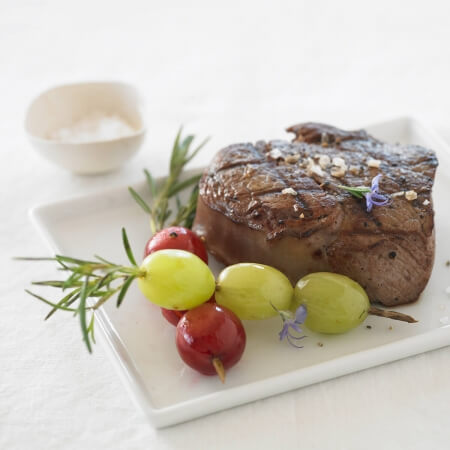 Rosemary Skewers
Add color and fragrance to a perfectly seared steak with rosemary grape skewers.  Snip long stems of rosemary leaves and remove all but the top leaves from the stem. Insert the stem into several Grapes from California and serve alongside the steak. Rosemary grape skewers are also a perfect complement to this
Grape Rosemary Martini
.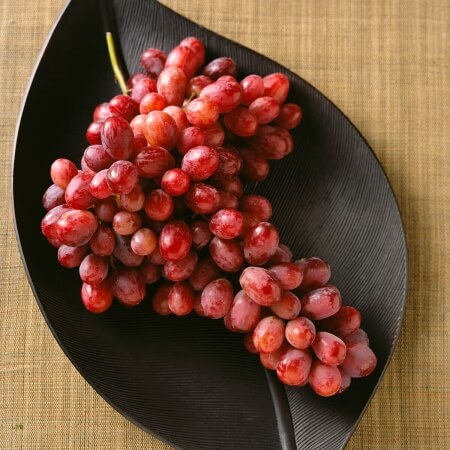 Just a Bunch
For those days when guests arrive unexpectedly, top a unique platter with just a single bunch of grapes from California for a simple, striking design element on a table that appears to have been completely planned.  Guests will not be able to resist the tempting burst of flavor.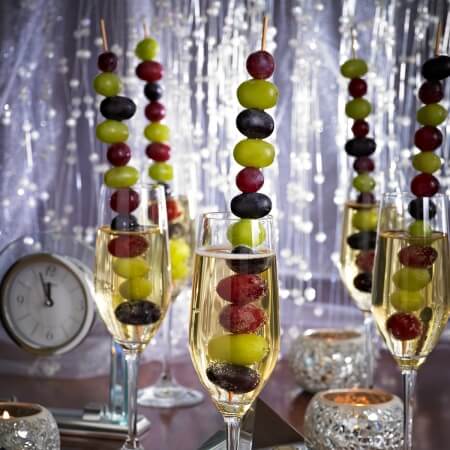 Twelve Grapes of Luck
A Spanish tradition called "las doce uvas de la suerte" dates back to 1895 and consists of eating a grape with each of the twelve bell strikes at midnight on New Year's Eve.  Many believe this leads to a year of prosperity. Green, black, and red grapes from California look festive on skewers served in champagne glasses or in punches, sangrias, fruit teas, and cocktails. Try
this 
fabulous champagne cocktail recipe.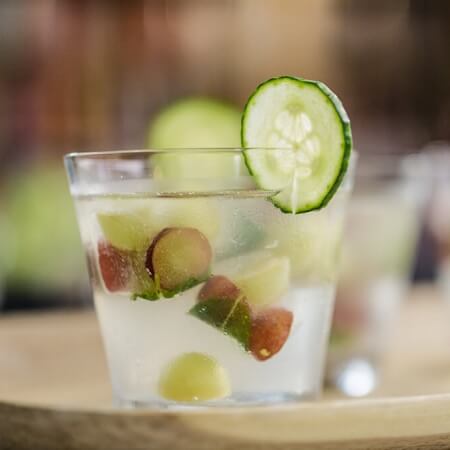 Grape & Mint Ice Cubes
Grapes freeze well and make a perfect replacement to plain ice cubes in cocktails – simply freeze sliced grapes from California and mint in ice cube trays with a bit of water, then add to a cocktail, like this
Gin, Grape and Cucumber Cocktail
.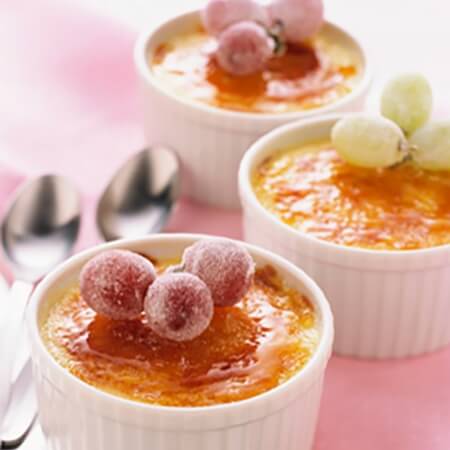 Frosted Grapes
Frosted grapes sparkle with sugar and add an extra-sweet touch to desserts like crème brûlée…or enjoy them as a dessert all on their own. It's easy to frost green, black, and red grapes from California with
this recipe
.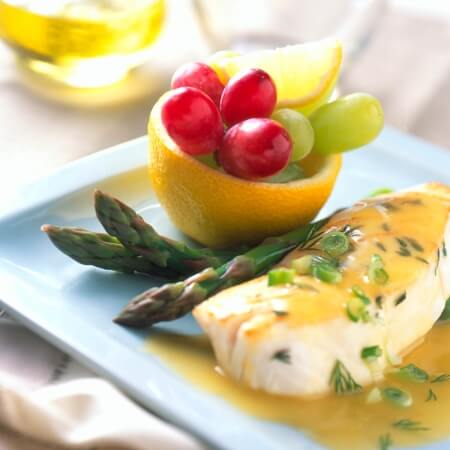 Citrus Cup
A hollowed piece of citrus makes the perfect cup for grapes while adding color and a fresh scent to the plate.  Fill an empty lemon cup with fresh grapes from California and serve alongside meals featuring ingredients like fish.

Chocolate-Dipped Grapes
Dipped in white, milk, or dark chocolate, grapes from California are the perfect match for dipping in chocolate!  Enjoy with dessert, like cheesecake, with tea, or even just on their own. Green, red, and black grapes from California are easy to dip in chocolate using
this recipe
.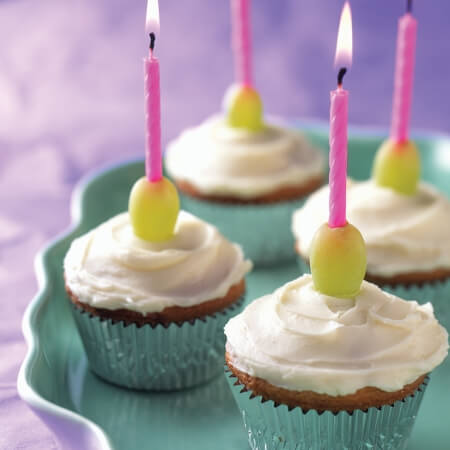 Candle Holder
Candles stand taller with extra height from grapes from California.  Secure grapes into fresh frosting and allow to set, then push candles into the top of the grape.  It's an extra special touch for a birthday celebration. Try this
Grape Spice Cupcake
recipe.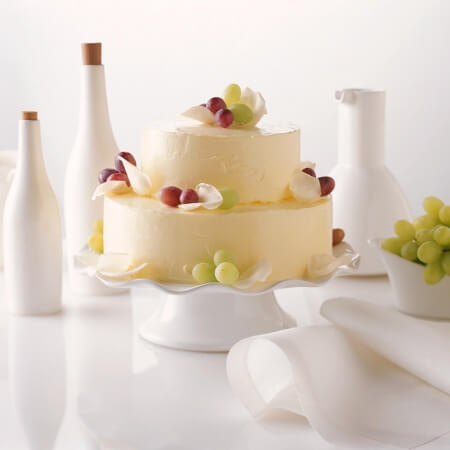 Cake Décor
Red, green, and black grapes from California are the perfect décor for a simply-frosted cake.  Grapes add color and elegance to each tier and are an edible decoration! Grapes are also the perfect candle holder on cupcakes, as seen 
here
.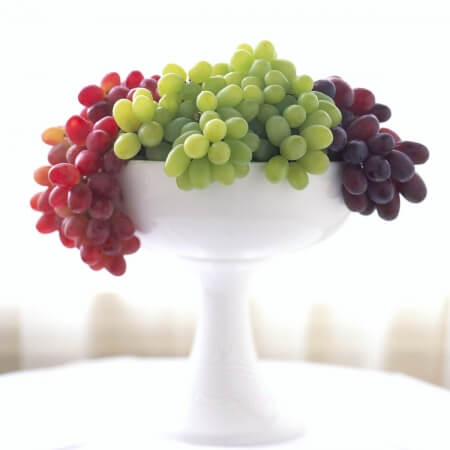 Beautiful Bunches
A pedestal of California grape bunches makes a simple, understated look of elegance on tables and counters.  Their stunning beauty is shown as they cascade from a tall stand.  And this décor couldn't be easier… with more than 90 varieties, just select preferred bunches and set on the pedestal!

Seasonal
ideas
FRESH AND FIT FOR SPRING AND SUMMER
Add a unique signature entrée salad or sandwich with grapes to offerings.
Highlight seasonal veggies with a grape accent, such as asparagus with a fresh grape relish.
Serve Fresh Grape Salsa and Black Grape Margaritas for a fun fiesta!
Capitalize on the classic combination of grapes and seafood: salmon, crab and prawns offer an array of culinary opportunities with grapes.
Offer grapes as a fresh side accompaniment to burgers and sandwiches – a refreshing option to french fries and chips.
Launch Grab 'n Go Grapes, packaged for takeout.  Click here for tips on merchandising for the greatest impact.
Put grapes on the salad bar, either loose as a salad topper or in clusters.
Include grapes as the fresh fruit option for catered boxed lunches.
Boost bar tabs with a signature cocktail that features fresh grapes.
Fresh grapes on the Kids' Menu will be popular with both kids and parents.
FINESSING YOUR FALL AND WINTER MENUS
Roasted grapes offer a rich intensity that complements an array of meats and poultry.  Click here to get inspired.
Innovative appetizers feature the classic combination of grapes and cheese in new ways: perhaps pizzettas with gorgonzola, roasted garlic and grapes or bruschetta topped with smoked chicken, fontina cheese and grapes.
Hearty entrée salads with intense flavors are balanced with grapes in the mix of ingredients.
Seasonal side salads are an easy way to incorporate grapes: spinach, pancetta, grapes and shredded parmesan or shaved Brussels sprouts with grapes, fennel and bacon.
Provide "bountiful harvest" packs of Grab 'n Go grapes that contain all three colors – green, red and black.
Upgrade your sandwich offerings with Smoked Turkey, Cashew and Grape filling, or Tuna Salad with Grapes and Tarragon dressing.
Enhance whole grains such as quinoa, farro and wheatberries, with fresh grapes and a signature vinaigrette for delicious and good-for-you salads.
Create snack combos or small plates that feature grapes with cheese and crackers, or hummus and pita chips.
Roast robust veggies such as cauliflower or brussels sprouts with grapes for a satisfying combination of flavors and textures.
GRAPE
terms
AMBER
A golden-yellow color of some green grape varieties that have been left to ripen longer on the vine.
Antioxidant
An antioxidant neutralizes harmful free radicals to help prevent the process of oxidation that damages cells. When free radicals are left to their own devices, a condition called "oxidative stress" occurs. Oxidative stress is now associated with numerous health conditions and chronic illnesses.
BLOOM
A white naturally occurring coating, made mostly of waxy compounds, is common to many soft fruits including grapes. The bloom protects the grape berries from moisture loss and decay. Bloom is sometimes mistakenly thought of as dust
Brix
Brix is a measure of soluble solids content in grapes, mostly sugars. Brix is measured with a refractometer and expressed in degrees. Each degree of Brix equals 1 gram of sugar per 100 grams of grape juice.
Phytonutrients
Natural plant components that give a plant its color, taste, and smell and are part of the plant's self-defense system, protecting it from pests, viruses, bacteria and excessive sunlight.
Polyphenols
A "family" of plant compounds (phytonutrients) found in grapes that appear to protect the health and function of cells and help promote antioxidant activity.
Seeded
Grapes that contain naturally occurring seeds.
Seedless
Grapes that do not have seeds.
Seed Trace
Soft, under-developed portions of a seed in some seedless grapes. Development is related to the weather during early phases of the growing season.
Shatter
Detachment of berries from the cluster is called shatter. Shatter increases with rough or excessive handling and can be reduced by gentle handling and maintaining recommended temperatures and relative humidity.
ABOUT
California

TABLE GRAPES

Californians have been cultivating grapes for more than two centuries. Today, 99 percent of U.S. table grapes are produced in California's warm, dry climate that is ideal for grape growing. With 90 grape varieties grown, California grapes come in three colors—green, red, and black—and are in season from May through January.
Explore California