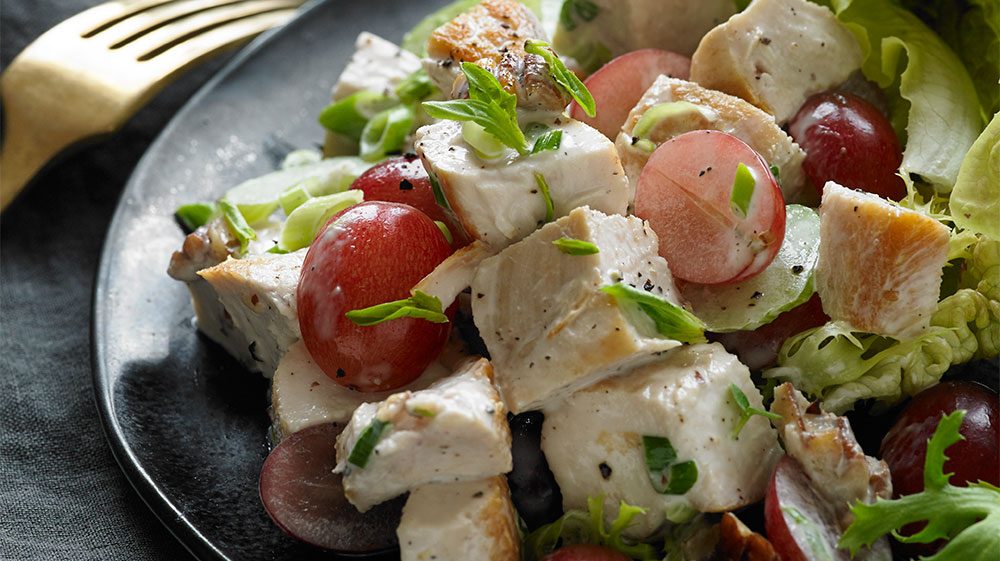 DIRECTIONS
Combine all salad ingredients in bowl and mix well.
Ingredients
2 cups chicken breast meat, cooked and chopped
1 1/2 cups halved California grapes
1/4 cup pecans, toasted and coarsely chopped
1/2 cup green onions, thinly sliced
1/4 cup celery, chopped
2 tablespoons fresh basil, chopped
1/2 cup light mayonnaise
1 tablespoon lemon juice, fresh
1/4 teaspoon salt
1/4 teaspoon pepper, ground
DIRECTIONS
Combine all salad ingredients in bowl and mix well.
Notes
This works great with rotisserie chicken from the deli counter!
This is a Gluten-free recipe
This is a Dairy-free recipe
This is a Healthy-fats recipe
Servings
6 salads or sandwiches
Serving Suggestions
Serve on mixed greens or toasted roll.
Nutritional Information
Nutritional analysis per serving: Calories 187; Protein 15 g; Carbohydrate 13 g; Fat 9 g (44 percent calories from fat); Sat Fat 1 g (5% Calories from Saturated Fat); Cholesterol 43 mg; Sodium 401 mg; Fiber 1 g.
ABOUT
California

TABLE GRAPES

Californians have been cultivating grapes for more than two centuries. Today, 99 percent of U.S. table grapes are produced in California's warm, dry climate that is ideal for grape growing. With 81 grape varieties grown, California grapes come in three colors—green, red, and black—and are in season from May through January.
Explore California