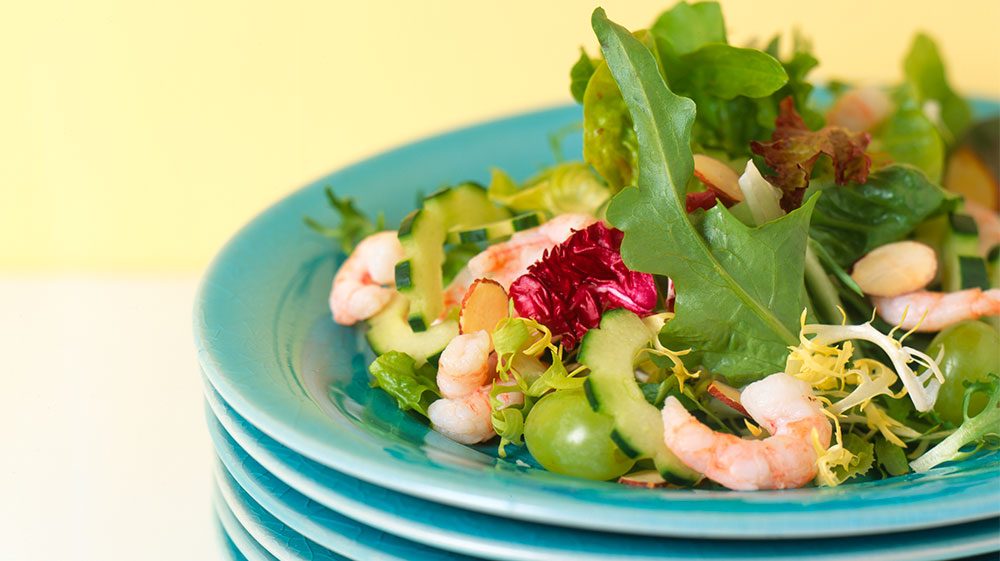 DIRECTIONS
In small bowl, whisk together dressing ingredients until smooth.
Place lettuce in bowl and drizzle or toss with dressing. Sprinkle with toasted almonds
Ingredients
Dressing:
1/4 cup mayonnaise
1/4 cup sour cream
1 tablespoon lemon juice
1/4 teaspoon salt
1/4 teaspoon black pepper, ground
1/4 cup olive oil
2 tablespoons dill, fresh chopped
Salad:
6 cups baby lettuce mix, loosely packed
1 cucumber, seeded, sliced into 1/2 moons
1 cup California seedless green grapes, picked from stem and rinsed
8 oz. wt. (about 1 1/4 cups) salad shrimp
1/4 cup sliced almonds, toasted
DIRECTIONS
In small bowl, whisk together dressing ingredients until smooth.
Place lettuce in bowl and drizzle or toss with dressing. Sprinkle with toasted almonds
Notes
This is a Gluten-free recipe
This is a Clean-eating recipe
Nutritional Information
Calories 273; Protein 11 g; Carbohydrate 10 g; Fat 21 g (69% Calories from Fat 69); Cholesterol 7 6 mg; Sodium 221 mg; Fiber 2 g.
ABOUT
California

TABLE GRAPES

Californians have been cultivating grapes for more than two centuries. Today, 99 percent of U.S. table grapes are produced in California's warm, dry climate that is ideal for grape growing. With 82 grape varieties grown, California grapes come in three colors—green, red, and black—and are in season from May through January.
Explore California