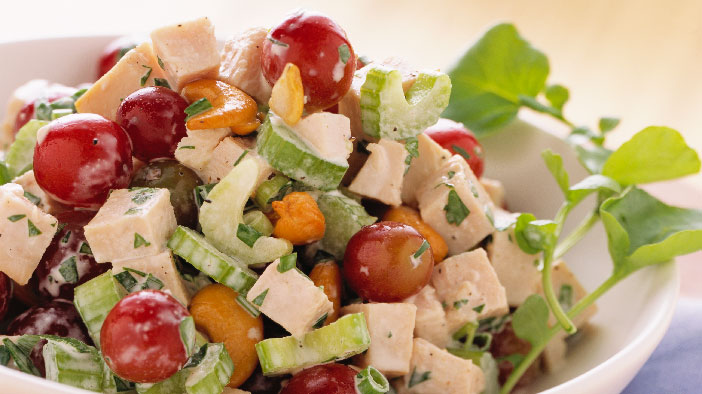 DIRECTIONS
Mix together turkey, grapes, celery, cashews, onions and parsley. Add remaining ingredients and toss well. Serve with additional cashews as garnish
Ingredients
2 1/4 pounds smoked turkey meat, diced
1 1/2 pounds California seedless grapes
1 qt. celery, sliced
1 cup cashew pieces, roasted, salted
1/2 cup green onions, sliced
1/2 cup fresh parsley, chopped
1 1/2 cups mayonnaise|
1/2 cup medium dry sherry
1/8 cup lemon juice
1/16 cup sugar
1/2 teaspoon salt
1 teaspoon pepper
DIRECTIONS
Mix together turkey, grapes, celery, cashews, onions and parsley. Add remaining ingredients and toss well. Serve with additional cashews as garnish
Notes
If possible, add dressing at the last minute to keep the celery and cashews crunchy.
This is a Gluten-free recipe
This is a Clean-eating recipe
This is a Dairy-free recipe
Servings
12 servings
ABOUT
California

TABLE GRAPES

Californians have been cultivating grapes for more than two centuries. Today, 99 percent of U.S. table grapes are produced in California's warm, dry climate that is ideal for grape growing. With 90 grape varieties grown, California grapes come in three colors—green, red, and black—and are in season from May through January.
Explore California