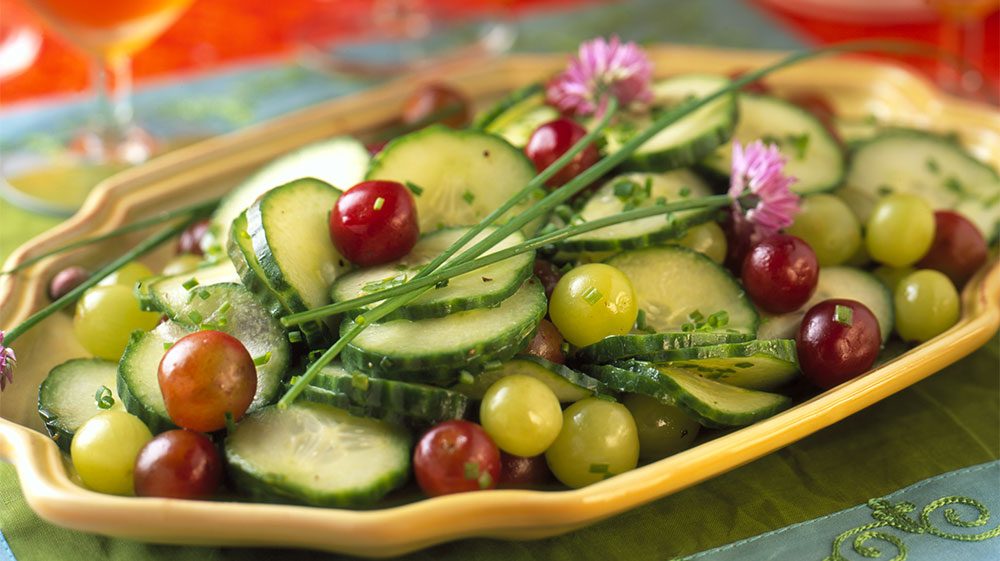 DIRECTIONS
Combine cucumber, grapes and chives. Mix vinegar, olive oil, honey, salt and hot pepper seasoning. Add to grape mixture and mix well. Refrigerate at least 30 minutes
Ingredients
6 cups (about 2 medium) thinly sliced peeled cucumbers
2 cups California seedless grapes, halved
1/4 cup chopped chives or green onion
1/3 cup white wine vinegar
1 teaspoon olive oil
1 tablespoon honey
1 teaspoon salt
1/4 teaspoon bottled hot pepper seasoning
DIRECTIONS
Combine cucumber, grapes and chives. Mix vinegar, olive oil, honey, salt and hot pepper seasoning. Add to grape mixture and mix well. Refrigerate at least 30 minutes
Notes
An enlivening accompaniment to any garden party meal, this cool, tangy salad featuring cucumbers, grapes and green onion will put a little kick into those hot summer nights.
This is a Vegan recipe
This is a Gluten-free recipe
This is a Vegetarian recipe
This is a Dairy-free recipe
Servings
makes 6 servings
Nutritional Information
Protein 1.1g; Fat 1.2g; Calories from Fat 14%; Carbohydrate 15.6g; Cholesterol 0mg; Fiber 1.5g; Sodium 392mg.
ABOUT
California

TABLE GRAPES

Californians have been cultivating grapes for more than two centuries. Today, 99 percent of U.S. table grapes are produced in California's warm, dry climate that is ideal for grape growing. With 82 grape varieties grown, California grapes come in three colors—green, red, and black—and are in season from May through January.
Explore California