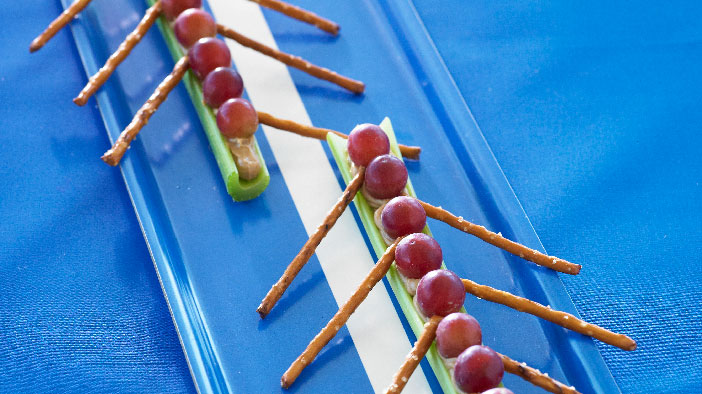 DIRECTIONS
Make a slice or two on the spine of each piece of celery, if necessary, so they stay upright on a plate. Spread 2 teaspoons peanut butter or almond butter into each celery stalk. Place the grapes in a row inside the celery, pressing them lightly into the nut butter. Position 8 pretzel sticks along the side of each celery "canoe" to look like oars for the grape "rowers."
Makes 4 servings
Serving size: 1 canoe
Ingredients
4 large celery stalks
8 teaspoons peanut butter or almond butter
1 cup red, seedless California grapes
32 thin pretzel sticks, preferably whole wheat
DIRECTIONS
Make a slice or two on the spine of each piece of celery, if necessary, so they stay upright on a plate. Spread 2 teaspoons peanut butter or almond butter into each celery stalk. Place the grapes in a row inside the celery, pressing them lightly into the nut butter. Position 8 pretzel sticks along the side of each celery "canoe" to look like oars for the grape "rowers."
Makes 4 servings
Serving size: 1 canoe
Notes
Recipe created by Chef and Nutritionist, Ellie Krieger, M.S., R.D.
This is a Vegan recipe
This is a Clean-eating recipe
This is a Vegetarian recipe
This is a Dairy-free recipe
This is a Healthy-fats recipe
Servings
4
Nutritional Information
Per Serving: Calories 120; Protein 4 g; Carbohydrate 16 g; Fat 6 g (45% Calories from Fat); Saturated Fat 1 g (8% Calories from Saturated Fat); Cholesterol 0 mg; Sodium 200 mg; Fiber 2 g.
ABOUT
California

TABLE GRAPES

Californians have been cultivating grapes for more than two centuries. Today, 99 percent of U.S. table grapes are produced in California's warm, dry climate that is ideal for grape growing. With 81 grape varieties grown, California grapes come in three colors—green, red, and black—and are in season from May through January.
Explore California